We are so excited to see our children's ministry begin coming to life after a year of online only children's ministry! Many of you have chosen to get involved and help us relaunch this vital ministry while also re-imagining what children's ministry in the next 5 years looks like.
Since our volunteers can not attend worship and volunteer in one of the classrooms at the same time, we are asking each volunteer to serve for 1 Sunday per month and we are committed to not asking a few superstars to serve more than that. Therefore, we have only been offering 2 weeks per month in March and April BUT we are moving to 3 weeks per month for May and are very close to being able to provide classrooms for babies through 1st graders every week!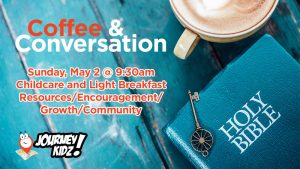 As we move forward, we are creating some new opportunities for parents to connect with one another and use resources to enhance your own discipleship at home! Each month we will be holding a parent breakfast on the first Sunday of the month called "Coffee and Conversation" at 9:30 am to discuss this month's curriculum, tips for at home discipleship and an opportunity to hear what's working from other parents at Journey. The next breakfast is tomorrow at 9:30am and childcare is provided!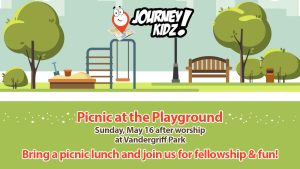 Each month we are also planning a fun outdoor (for now) event for families to get together and let our kids play and get to know each other while parents have the opportunity to build new relationships and have some fun, too! For the month of May, we will be meeting at Vandergriff Park immediately after church on Sunday, May 16th. Bring your own picnic lunch and come by for as long as you would like.
Each month we will be continuing to grow this ministry including elementary school aged children as we continue to work towards meaningful children's ministry for this generation and beyond! If you are interested in getting involved, contact Deidra Love at deidrabl@hotmail.com!